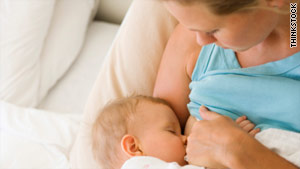 CNN is reporting on a new study
that says if more moms breastfed for the first 6 months of life it would save nearly 1,000 lives and billions of dollars each year.
"The United States incurs $13 billion in excess costs annually and suffers 911 preventable deaths per year because our breastfeeding rates fall far below medical recommendations," the report said.
Those are some pretty staggering statistics.
13
billion!
TheFeministBreeder has a fantastic post
on the topic that I urge you to go read. I couldn't say it any better.
In other news, a Minnesota mom was kicked out of a restaurant for breastfeeding her baby in plain view. This happened in a state where the law clearly says that women have the right to breastfeed anywhere. The police were actually called to the restaurant when the parents protested being asked to leave.
This is so outrageous! I can't believe that not only did the restaurant not uphold the law, the police didn't either!
We need to get over our aversion to seeing breasts being used to feed babies. That is what they are for! I applaud this woman for feeling comfortable enough to breastfeed in public. So many women don't because we just don't see it enough. I have breastfed Asher in restaurants and other public places plenty of times. I have always tried to be fairly discreet about it. But at the same time, I don't think we should have to feel like we HAVE to cover up while we feed our babies. We are doing the most natural thing in the world--giving our babies nourishment. That should be celebrated--not seen as too shameful to do around other people.
Coming back to the first news article, I think if more women saw other women breastfeeding, it would be easier for them to also breastfeed and do it longer. We need a serious culture shift in this regard.
***Please read the comments. There are some very interesting things brought up and I've responded to some of them.
[image source]