We capped off this friends-filled week with a visit from Eleanor and Calvin. Eleanor and I served together in the Relief Society Presidency of our BYU singles ward about 4 years ago. She is hands down one of the coolest, most talented, and stylish girls I know. (Check out her
Etsy Shop
!)We hadn't seen each other since we both got married and had baby boys a week apart, so it was WONDERFUL to catch up. She and her darling boy, Calvin, came over for a late lunch and a walk to the nearby park.
Unfortunately, I'm lame and didn't get a picture of all of us or a good one of Eleanor. Next time. But here are the cute baby boys getting ready to walk and playing on the playground.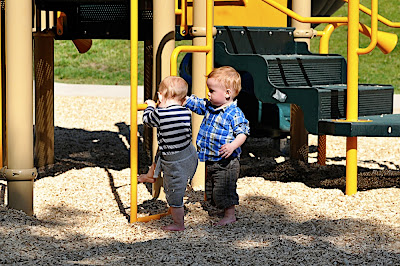 Asher's latest thing is climbing. He was really trying to climb into Calvin's stroller.
How cute can one boy be?