I had another doctor's appointment today. Nothing too eventful other than that I gained another two pounds. I am packin it on here at the end. Dr. S didn't even check my cervix today which is fine with me. If it was the same as it was last week after all the contractions and such I've had I'd have been depressed, so better not to know.
After the appointment we hit up Costco to stock up on foodstuffs. I figure we won't be making it back there for awhile so we kinda went all out. We pretty much bought our weight in cereal. I had some good contractions while pushing that heavy cart around and more since we've been home. Fortunately, I haven't had the crazy cramps so that's nice.
Anyway, back to the point of this post. In pregnancy books you read about the Bishop's Score. It is a scoring system used to determine whether labor is likely to start spontaneously and how likely an induction is to work. I was curious what mine would be so I found this chart and figured it out.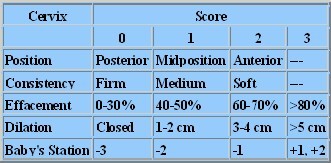 Based on my last cervical exam, which was last Tuesday at the hospital, my bishop's score is an 11 or 12. Guess what the highest possible score is? 13! So pretty much I'm basically in labor. Any guesses as to when this kid is gonna make his appearance?