photo from photo.net


I think fall has finally arrived to North Carolina. We had a teaser a few weeks back, but summer temps soon returned. And then, yesterday I could smell it. And the air felt a bit crisp all day. And the breeze was lovingly chill. And then today.... oh today it is cool enough that I had to go back inside and grab a jacket. I love fall! Unfortunately, the leaves are still mostly green and don't really look like that picture up there, and from what I've heard may not be all the pretty this year. You see, NC is experiencing a major drought. It makes my heart hurt because I have really been hoping for a real Eastern style Autumn. I'll keep hoping until all those leaves are gone.
In other news, we got a new computer yesterday and it is pretty. I'll have to take a picture to show you all. Jared has been having so much fun setting everything up.
Lastly, we have an exciting weekend ahead of us for we are going to this: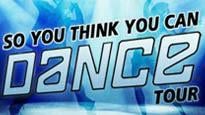 Oh yeah, we bought tickets online during the season finale and are SO SO SO excited to see Danny, Sabra, Lacey, Neil, and everyone dance LIVE! I'm sure it's going to be amazing. I'll report back with details on Monday.
Happy weekend everyone!