Salt Lake City has one of the coolest libraries ever. For reals. I've never seen a library like this one anywhere else. It is such an architectural treasure. Last week, I went inside it for the first time. It did not disappoint. Although we have smaller branches of the library closer to our house, we had to take the kids downtown to visit this one. We all got library cards and had a good time exploring and picking out books. Libraries are the best.
First stop was of course the children's section, where we not only picked out books, but explored.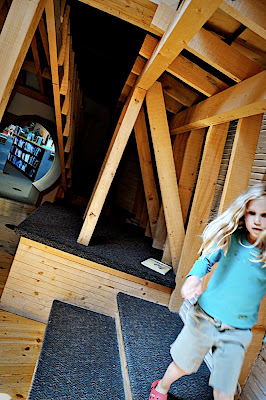 Once we had our new library cards and had checked out our books, we went to explore some more. We all got a little wobbly-kneed climbing the stairs and looking down, down, down.
Then it was up to the rooftop garden to check out the amazing views!
Of course we had to take the glass elevator back down.
And couldn't leave without dipping our fingers in the reflecting pond.
I can't wait to go back and explore some more!