I recently finished reading
Birth
and am now reading
Pushed
. I think every woman who plans to have children should read these books. They have me pretty fired up right now about obstetrical practices in our country and how they are affecting women and babies. I think I will probably write a more in-depth post about my feelings later, but for now I want to HIGHLY recommend these books. Go to your library and check these out! They are both written by female journalists who did extensive research. They will open your eyes to maternity care in the US and seriously make you think.
Birth: The Surprising History of How We Are Born
(the link takes you to Amazon, which has a good review)
This book is a well-research history of birth practices beginning with the evolution of human pelvises and head size and covering every fad and medical "advance" to help women give birth. The author, Tina Cassidy, a former journalist for the Boston Globe, set out to research the history of birth after the unplanned cesarean of her first son. The book is quick read as it flows very nicely from topic to topic and is full of meaningful anecdotes as well as study-based findings.
Here is a link to Tina Cassidy's blog.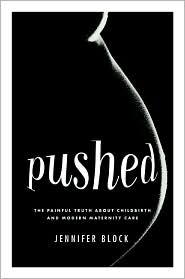 Pushed: The Painful Truth About Childbirth and Modern Maternity Care
As the title suggests, this book is much more focused on modern maternity practices. I am about half-way through it, and the more I read the more fired-up I get. Jennifer Block, also a journalist, did exhaustive research to write this. She cites hundreds of studies and talked to many, many medical professionals and mothers about the birth experience in the US. Did you know that some women are so traumatized by their birth experience they get Post Traumatic Stress Disorder, the same disorder that soldiers in war and victims of extreme violence are diagnosed with?
Here is the book info from
Jennifer Block's blog
:
In Pushed: The Painful Truth About Childbirth and Modern Maternity Care (Da Capo, 2007), Block reports on the current state of maternity care across the country, from inside the operating room of a hospital with a 44% cesarean rate to the living room floor of a woman who gives birth in a kiddie pool with an illegal midwife. Pushed is not a pregnancy guide, but rather a narrative investigation of modern American childbirth.
Do routine inductions, C-sections, and epidurals equal medical progress? Why are home-birth midwives illegal in 11 states? Why are physicians and hospitals denying women vaginal births after cesarean? Can breech babies be born vaginally? How did episiotomies become routine? Where does Pitocin come from? Should midwives go to jail? Is home birth safe? Are women really requesting unnecessary C-sections? Is normal birth the next "woman's right to choose"? Pushed tackles all these questions and more.
I have a lot I want to say, but I'm going to say it later. I just can't emphasize strongly enough that I think these books are well worth your time if you ever plan on giving birth.