First off, 10 months ago, Jared and I were married! Fun, fun! It's crazy how fast it goes. Marriage is fantastic! And I sure do have one fantastic husband! He's been taking such good care of me. Basically I come home from work and proceed to lay on the couch for the rest of the night while he makes me food and smoothies and whatever else might be of utmost necessity. He even watches Project Runway with me.... and likes it! I love you more, babe!
Secondly, there is something about being pregnant that makes you intensely aware of all pregnant women in the world. Like suddenly, every third woman you meet is also knocked up. And with our culture's obsession with celebrity, it suddenly becomes imperative to know which famous ladies out there are also expecting little ones. Suddenly, you feel a bond with women you will never, ever meet. It's weird. There is even a whole
blog
about celebrities and their babies! On that note, I thought I'd share a few of my current favorite pregnant celebrities.
Nicole Kidman (I am so happy for her!)

Halle Berry (Still as gorgeous as ever!)

Jennifer Lopez ( Also still looking super hot)

Giada De Laurentiis (She's a chef on Food Network whom I've recently started watching sometimes. She also guest co-hosts on the Today Show sometimes.)

Cate Blanchett (She's so classy and stylish. Love her!)

Toni Collette (I didn't even know she was pregnant until just now, but I think she's great and very pregnant.)
Of course there are lots more out there too, and there will be even more in the next 7 months. Ah, babies, there will always be more babies.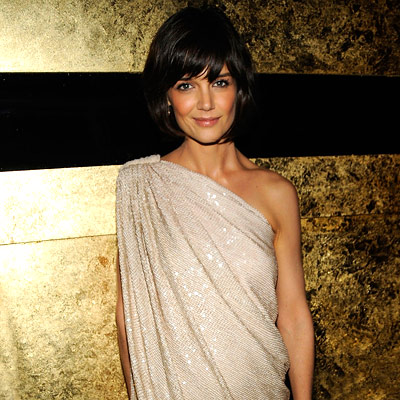 Thirdly, I am in love with Katie Holmes hair at the Critics Choice Awards the other night! I know she's had this cut for awhile, but I especially loved it that night. I am planning on chopping my hair off this spring to donate it, and I'm thinking I will do something similar to this. What do you think?
Question: Am I totally gonna regret having short hair during my last months of pregnancy when I get super fat, or will it be nice to have all that extra hair weight gone for the hot months of summer? Just so you know, this isn't a rash decision at all. I have been planning on cutting my hair for months. I'm just letting it grow a bit more to give the layers a chance to grow out some.
*In case something crazy happens with this photo, like the last one, I got it from
InStyle
.